Were Sunderland fans right to confront Lee Johnson in wake of Lincoln play-off defeat? Poll
Admittedly it was just a handful of Sunderland supporters, but were they justified in confronting Lee Johnson?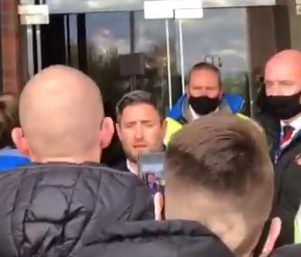 It's hardly made headline news, bar a couple of outlets, but as most Sunderland fans drifted away on Saturday into the pubs or the comfort of their own homes, a few decided to take a pop at Lee Johnson and his players.
Is it a case of "ya pays ya money" and so entitles football supporters the opportunity to demonstrate their displeasure? Or was this all just a bit of blood-rush-to-the-head angst from a small minority?
Sunderland fans not too happy with Lee Johnson then 😳
pic.twitter.com/nfD9U8rgeu

— The Second Tier (@secondtierpod) May 22, 2021
There isn't much that isn't videoed these days with one eye on a social media posting. A few lobs of abuse at football managers and players has always gone on. It's just that now there's always a camera phone on hand to record the outcome.
It isn't even like anyone can make out much of what was said. Johnson, to his credit or perhaps folly, did at least pause to try and listen to fan complaints.
The reasons for Sunderland fan frustration cannot be disputed however. A fourth consecutive season in the third tier awaits. Sunderland are now firmly ensconced in League One oblivion. Only half of the clubs that will start in the division next term have spent longer than the Black Cats in it.
That was made all the more frustrating after an end-of-season collapse and a disastrous play-off first leg. That 2-0 reverse gave way to 45 minutes of some of the better football played by Johnson's side for some time, only for it to blow up once more after Michael Appleton tweaked a couple of things that Sunderland had little answer to.
Whatever mood Johnson and the Sunderland hierarchy awoke to on Sundday, perhaps what should worry them is that once fans on Wearside turn, it's a rare breed of boss who wins them back. Who even was the last Sunderland manager who rehabilitated their image with the fans?
Everyone is entitled to their view. How they go about it may be a different matter, but Johnson will have departed the SOL on Saturday clear in the knowledge that at least some have made their feelings abundantly clear. Should he be here at the start of next season, and results aren't immediately impressive, the rest will no doubt follow.
Were Sunderland fans right to confront Lee Johnson?